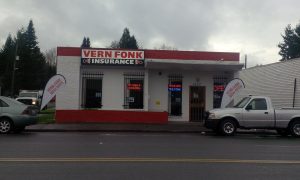 Would you like to put an end to your high auto insurance? It's easy once you get the most affordable auto insurance rates in Seattle, Washington from Vern Fonk Insurance. Their friendly staff of experts will make sure you get the insurance you want and need. Whether you're shopping for auto, SR-22 insurance, homeowners insurance, renters insurance or coverage for your boat or RV, you'll find it at Vern Fonk Insurance at the best possible price.
Since 1952, Vern Fonk Insurance has prided itself in providing quality service, while protecting customers' families and property at a reasonable price. Their long-standing reputation of saving their clients money is just one of the many reasons why so many people have made the switch to Vern Fonk Insurance. We're located across from McClendon Hardware between Kiet's Auto Body and White Center Pizza and Spaghetti House in Seattle. Call or visit our office at 10237 16th Ave SW Seattle, Washington 98146 and start saving on your insurance!
Vern Fonk Insurance
West Seattle
Address: 10237 16th AVE SW
West Seattle, WA 98146
Phone: (206) 508-3202
Fax: (206) 582-0511
Email: jose_t@vernfonk.com
Motorcycle Insurance
Broad Form Insurance
Commercial Insurance
Monday
08:30 AM TO 06:30 PM
Tuesday
08:30 AM TO 06:30 PM
Wednesday
08:30 AM TO 06:30 PM
Thursday
08:30 AM TO 06:30 PM
Friday
08:30 AM TO 06:30 PM
Saturday
09:00 AM TO 04:00 PM
Additional
Locations
For All Vern Fonk
Locations in WA & OR
Our West Seattle WA location proudly serves the Greater West Seattle WA area including: White Center, Burien, Gatewood, Delridge, and West Seattle Washington.