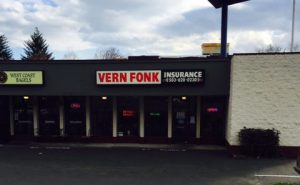 Our Tigard insurance agents are trained to get our customers the best insurance policies for the best rates. They are experts with auto insurance, SR22 insurance, home, business and more. We help our local customers cover the things that are most important. Call our Tigard Insurance office today to save money today.
Vern Fonk in Tigard might have funny commercials, but we are better known for our expertise on auto insurance and other insurance products. Don't wait, call us now!
Vern Fonk Insurance
Tigard
Address: 9804 SW Shady Ln
Tigard, OR 97223
Phone: (971) 213-1013
Fax: (503) 620-7856
Email: rosym@vernfonk.com
Motorcycle Insurance
Broad Form Insurance
Commercial Insurance
Monday
08:30 AM TO 06:30 PM
Tuesday
08:30 AM TO 06:30 PM
Wednesday
08:30 AM TO 06:30 PM
Thursday
08:30 AM TO 06:30 PM
Friday
08:30 AM TO 06:30 PM
Saturday
09:00 AM TO 04:00 PM
Additional
Locations
For All Vern Fonk
Locations in WA & OR
Our Tigard Oregon location services the Greater Tigard/Beaverton Oregon area including: Tigard, Beaverton, Aloha, Hillsboro, Cedar Hills, and Cedar Mill Oregon.
Vern Fonk in Tigard, OR offers auto insurance, sr22 insurance, Commercial Auto Insurance, Boat insurance, Renters insurance, Homeowners Insurance, Condo/Co-op Insurance, RV insurance, Motorcycle insurance, Flood insurance, Umbrella insurance, ATV insurance, and Mobile Home insurance . Call today to see how we can save you up to 40%.