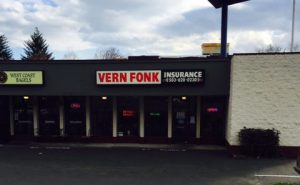 Paying too much for your car insurance can be hard on your wallet. But, getting the most affordable auto insurance quote in Tigard, Oregon from Vern Fonk Insurance can quickly fix that. It doesn't matter if you're looking for auto insurance, SR-22 insurance, renters insurance or homeowners insurance, the friendly staff of licensed, professional agents at Vern Fonk Insurance will provide you with the type of insurance you need at the best possible price.
With over 50 years of experience, Vern Fonk Insurance knows exactly how to evaluate the coverage that's not only right for your needs, but one that also fits your budget. Their goal is to make you one of their many satisfied customers who are glad they switched to Vern Fonk Insurance. We're conveniently located at the corner of SW Greenburg Rd. and SW Shady Ln, next to West Coast Bagels in Tigard. Call or visit our office at 9804 SW Shady Ln Tigard, Oregon 97223 and start saving on your insurance today!
Vern Fonk Insurance
Tigard
Address: 9804 SW Shady Ln
Tigard, OR 97223
Phone: (971) 213-1013
Fax: (503) 620-7856
Email: rosym@vernfonk.com
Motorcycle Insurance
Broad Form Insurance
Commercial Insurance
Monday
08:30 AM TO 06:30 PM
Tuesday
08:30 AM TO 06:30 PM
Wednesday
08:30 AM TO 06:30 PM
Thursday
08:30 AM TO 06:30 PM
Friday
08:30 AM TO 06:30 PM
Saturday
09:00 AM TO 04:00 PM
Additional
Locations
For All Vern Fonk
Locations in WA & OR
Our Tigard Oregon location services the Greater Tigard/Beaverton Oregon area including: Tigard, Beaverton, Aloha, Hillsboro, Cedar Hills, and Cedar Mill Oregon.
Vern Fonk in Tigard, OR offers auto insurance, sr22 insurance, Commercial Auto Insurance, Boat insurance, Renters insurance, Homeowners Insurance, Condo/Co-op Insurance, RV insurance, Motorcycle insurance, Flood insurance, Umbrella insurance, ATV insurance, and Mobile Home insurance . Call today to see how we can save you up to 40%.