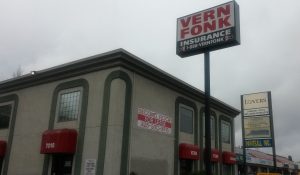 Are you letting your car insurance company tell you there's nothing you can do about your high rates? Truth is – by getting the most affordable auto insurance quotes in Tacoma, Washington from Vern Fonk Insurance, there's a lot you can do about it. You can begin by comparing rates for your car, homeowners insurance, SR-22, renters or other insurance needs. It's free and you'll see how much you can save as Vern Fonk Insurance ensures you'll get the type of insurance coverage you want at the best possible price.
Since 1952, Vern Fonk Insurance has been serving its clients by providing them with quality service and the insurance protection they need at a reasonable price. Stop letting your insurance company fool you and switch to Vern Fonk Insurance. We're conveniently located off Interstate 5 directly in front of Home Depot in Tacoma. Call or come by our office at 7018 Tacoma Mall Blvd Tacoma, Washington 98409 and start saving on your insurance today!
Vern Fonk Insurance
Tacoma
Address:7018 Tacoma Mall Blvd #201
Tacoma, WA 98409
Phone:(253) 943-2210
Fax: (253) 588-6329
Email: craig@vernfonk.com
Motorcycle Insurance
Broad Form Insurance
Commercial Insurance
Monday
08:30 AM TO 06:30 PM
Tuesday
08:30 AM TO 06:30 PM
Wednesday
08:30 AM TO 06:30 PM
Thursday
08:30 AM TO 06:30 PM
Friday
08:30 AM TO 06:30 PM
Saturday
09:00 AM TO 04:00 PM
Additional
Locations
For All Vern Fonk
Locations in WA & OR
Our Tacoma WA auto insurance agency location proudly serves the Greater Tacoma WA area including: Tacoma, Federal Way, Spanaway, Auburn, Fife, Kent and Edgewood Washington.
Offering auto insurance, sr22 insurance, Commercial Auto Insurance, Boat insurance, Renters insurance, Homeowners Insurance, Condo/Co-op Insurance, RV insurance, Motorcycle insurance, Flood insurance, Umbrella insurance, ATV insurance, and Mobile Home insurance, we excel in providing our customers the perfect insurance policy that fits both their needs and their budgets.