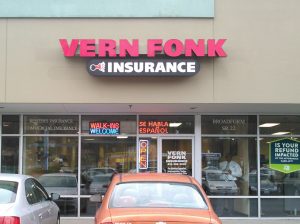 Will you still be paying too much for your auto insurance tomorrow? Not if you check out the most affordable auto insurance rates in Renton, Washington from Vern Fonk Insurance. Whether you're shopping for auto insurance, SR-22 insurance, homeowners insurance, or a variety of other coverages, including commercial insurance, don't wait another day. Let the friendly insurance professionals at Vern Fonk Insurance provide you with the type of coverage you want at the best possible price.
Vern Fonk Insurance has been serving the insurance needs of hard-working Washington state residents for over 50 years. Quality service, savings, and insurance coverage at a reasonable price are only a few of the reasons why so many wise policyholders have made the move to Vern Fonk Insurance. We're located across from the Municipal Airport between S. Tobin St. and Airport Way in Renton. Call or visit our office at 64 Rainier Ave S. Ste C Renton, Washington 98057 and start saving on your insurance today!
Vern Fonk Insurance
Renton
Address: 64 Rainier Ave S, Suite C
Renton, WA 98057
Phone: (425) 434-4037
Fax: (425) 988-2818
Email: maria@vernfonk.com
Motorcycle Insurance
Broad Form Insurance
Commercial Insurance
Monday
08:30 AM TO 06:30 PM
Tuesday
08:30 AM TO 06:30 PM
Wednesday
08:30 AM TO 06:30 PM
Thursday
08:30 AM TO 06:30 PM
Friday
08:30 AM TO 06:30 PM
Saturday
09:00 AM TO 04:00 PM
Additional
Locations
For All Vern Fonk
Locations in WA & OR
Our Renton WA location proudly serves the Greater Renton / Tukwila WA area including: Renton, Tukwila, Sea Tac, Burien, Newcastle and Kent Washington.
Vern Fonk in Renton, WA offers auto insurance, sr22 insurance, Commercial Auto Insurance, Boat insurance, Renters insurance, Homeowners Insurance, Condo/Co-op Insurance, RV insurance, Motorcycle insurance, Flood insurance, Umbrella insurance, ATV insurance, and Mobile Home insurance. Don't hesitate to call today to speak to one of our agents.