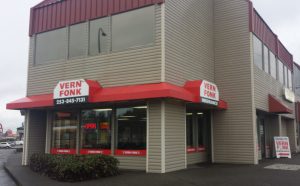 When it comes to paying too much for auto insurance – you're not alone. But, you can change all that by choosing the most affordable auto insurance in Puyallup, Washington from Vern Fonk Insurance. From auto insurance to renters insurance – SR-22 insurance to homeowners insurance – no matter what your insurance needs – the dedicated staff of licensed agents at Vern Fonk Insurance will ensure you get the type of coverage you need at the best possible price.
Vern Fonk Insurance has served their hard-working clients with quality service since 1952. Once you compare, you'll be joining the thousands of satisfied customers who have gone from high insurance rates to savings by switching to Vern Fonk Insurance. We're conveniently located in the Meridian Plaza across from South Hill RV Sales in Puyallup. Visit our office at 12515 Meridian E. Ste 104 Puyallup, Washington 98373 or give us a call and start saving on your insurance today!
Vern Fonk Insurance
Puyallup/South Hill
Address: 12515 S Meridian #104
Puyallup, WA 98373
Phone: (253) 943-2211
Fax: (253) 845-7454
Email: stella@vernfonk.com
Motorcycle Insurance
Broad Form Insurance
Commercial Insurance
Monday
08:30 AM TO 06:30 PM
Tuesday
08:30 AM TO 06:30 PM
Wednesday
08:30 AM TO 06:30 PM
Thursday
08:30 AM TO 06:30 PM
Friday
08:30 AM TO 06:30 PM
Saturday
09:00 AM TO 04:00 PM
Additional
Locations
For All Vern Fonk
Locations in WA & OR
Our Puyallup WA location proudly serves the Greater Puyallup / South Hill WA area including: Puyallup, South Hill, Sumner, Parkland, Bonney Lake and Edgewood Washington.
Vern Fonk Puyallup WA offers auto insurance, sr22 insurance, Commercial Auto Insurance, Boat insurance, Renters insurance, Homeowners Insurance, Condo/Co-op Insurance, RV insurance, Motorcycle insurance, Flood insurance, Umbrella insurance, ATV insurance, and Mobile Home insurance. Call us today and find out how you can save up to 40% off your insurance by calling Vern Fonk.