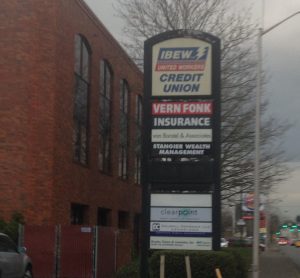 Isn't it time to stop paying too much for auto insurance? Getting the most affordable auto insurance quotes in Portland, Oregon begins with Vern Fonk Insurance. Comparing rates for your car, motorcycle, homeowners insurance or other insurance needs is quick and simple. It doesn't cost you a thing and you'll instantly see how much you can save as Vern Fonk Insurance finds you the coverage you need at the best price possible.
Vern Fonk Insurance doesn't rely on guess work. They've been doing this since 1952 and their licensed agents take pride in ensuring their clients receive the coverage they want at a reasonable price. Stop paying more than you should for your insurance and switch to Vern Fonk Insurance! We're conveniently located between SE 99th Ave and SE 100th Ave across from the Red Robin Restaurant in Portland. Call today or visit our office at 9955 SE Washington St. Ste 103 Portland, Oregon 97216 and start saving on your insurance today!
Vern Fonk Insurance
Portland
Address: 9955 SE Washington Street
Portland, OR 97216
Phone: (971) 213-1015
Fax: (503) 257-9095
Email: robertj@vernfonk.com
Motorcycle Insurance
Broad Form Insurance
Commercial Insurance
Monday
08:30 AM TO 06:30 PM
Tuesday
08:30 AM TO 06:30 PM
Wednesday
08:30 AM TO 06:30 PM
Thursday
08:30 AM TO 06:30 PM
Friday
08:30 AM TO 06:30 PM
Saturday
09:00 AM TO 04:00 PM
Additional
Locations
For All Vern Fonk
Locations in WA & OR
Our Portland, OR location proudly serves the Greater Portland metro area.
We offer auto insurance, sr22 insurance, Commercial Auto Insurance, Boat insurance, Renters insurance, Homeowners Insurance, Condo/Co-op Insurance, RV insurance, Motorcycle insurance, Flood insurance, Umbrella insurance, ATV insurance, and Mobile Home insurance to our local families and businesses.
Don't hesitate to call and find out why Vern Fonk in Portland is considered the top auto insurance agency in Portland.