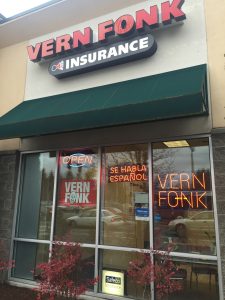 Our agents at Vern Fonk in Lacey/Olympia consider ourselves part of the community. We know many local families, individuals and businesses in the area. With this direct connection to Lacey/Olympia, we completely understand the needs and wants of our community members. We can use this knowledge to get our customers the perfect policy that really protects their most important assets while also saving them money. Call us today and let one of our licensed insurance help you with your auto insurance policy, SR22 insurance, home insurance, business and more.
We might be known as an auto insurance agency with funny commercials, but we really do know our insurance. Call us today and remember to honk when you drive by Vern Fonk.
Vern Fonk Insurance
Olympia
Address: 4101 Martin Way East #103
Lacey, WA 98516
Phone: (360) 686-6075
Fax: (360) 359-4327
Email: frankm@vernfonk.com
Motorcycle Insurance
Broad Form Insurance
Commercial Insurance
Monday
08:30 AM TO 06:30 PM
Tuesday
08:30 AM TO 06:30 PM
Wednesday
08:30 AM TO 06:30 PM
Thursday
08:30 AM TO 06:30 PM
Friday
08:30 AM TO 06:30 PM
Saturday
09:00 AM TO 04:00 PM
Additional
Locations
For All Vern Fonk
Locations in WA & OR
Our Olympia WA location proudly serves the Greater Olympia / Lacey WA area including: Olympia, Lacey, Tumwater, Dupoint, Fort Lewis and Spanaway Washington.
Vern Fonk Olympia WA offers auto insurance, sr22 insurance, Commercial Auto Insurance, Boat insurance, Renters insurance, Homeowners Insurance, Condo/Co-op Insurance, RV insurance, Motorcycle insurance, Flood insurance, Umbrella insurance, ATV insurance, and Mobile Home insurance. Call today, get a quote and see how Vern Fonk can save you up to 40% on your insurance policy.