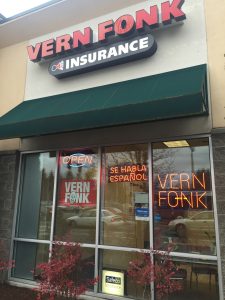 Don't suffer through another month of paying too much for car insurance? Put the brakes on high insurance rates with the most affordable auto insurance in Lacey, Washington from Vern Fonk Insurance. Whether you're insured or currently shopping for auto insurance, homeowners insurance, SR-22 insurance or RV insurance – you owe it to yourself to let the licensed staff of agents at Vern Fonk Insurance find you the type of coverage you want at the best possible price.
Vern Fonk Insurance believes you deserve to save money while getting loyal, quality service – at a reasonable price. So, don't let another month go by. Come over to Vern Fonk Insurance as so many wise customers have done. We're conveniently located just off the I-5 at the corner of Martin Way SE and Sleater Kinney Rd. NE in Lacey. Call us or visit our office at 4104 Martin Way SE Ste 103 Lacey, Washington 98516 and start saving on your insurance today!
Vern Fonk Insurance
Olympia
Address: 4101 Martin Way East #103
Lacey, WA 98516
Phone: (360) 686-6075
Fax: (360) 359-4327
Email: frankm@vernfonk.com
Motorcycle Insurance
Broad Form Insurance
Commercial Insurance
Monday
08:30 AM TO 06:30 PM
Tuesday
08:30 AM TO 06:30 PM
Wednesday
08:30 AM TO 06:30 PM
Thursday
08:30 AM TO 06:30 PM
Friday
08:30 AM TO 06:30 PM
Saturday
09:00 AM TO 04:00 PM
Additional
Locations
For All Vern Fonk
Locations in WA & OR
Our Olympia WA location proudly serves the Greater Olympia / Lacey WA area including: Olympia, Lacey, Tumwater, Dupoint, Fort Lewis and Spanaway Washington.
Vern Fonk Olympia WA offers auto insurance, sr22 insurance, Commercial Auto Insurance, Boat insurance, Renters insurance, Homeowners Insurance, Condo/Co-op Insurance, RV insurance, Motorcycle insurance, Flood insurance, Umbrella insurance, ATV insurance, and Mobile Home insurance. Call today, get a quote and see how Vern Fonk can save you up to 40% on your insurance policy.