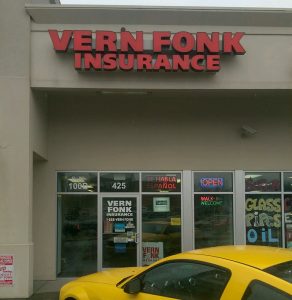 Our auto insurance agency in Mount Vernon, WA is ready to help you find the right insurance products to fit your budget and lifestyle needs. We have been helping people in the greater Burlington area find insurance products that work for them for many years. Our expert knowledge of the area and community is what sets us apart from our competitors.
If you need help with a basic auto insurance policy, or if you need to find SR22 coverage Vern Fonk in Burlington is the place to go! We can help you find what you need, no matter what your driving history may be.
Vern Fonk in Burlington is mostly known for their discounted auto insurance rates and funny television commercials, but did you know they sell other amazing insurance products too? Vern Fonk can help you with homeowner's insurance, SR22 certificates, broad form coverage, "high-risk" insurance, motorcycle insurance, boat and RV insurance, renter's insurance and much more! Call Vern Fonk in Burlington today for a fast and easy, free insurance quote!
Vern Fonk Insurance Mt. Vernon
Address:425 E College Way Suite 100B
Mount Vernon, WA 98273
Phone: (360) 686-6059
Fax:(360) 757-7322
Email: annabel@vernfonk.com
Motorcycle Insurance
Broad Form Insurance
Commercial Insurance
Monday
08:30 AM TO 06:30 PM
Tuesday
08:30 AM TO 06:30 PM
Wednesday
08:30 AM TO 06:30 PM
Thursday
08:30 AM TO 06:30 PM
Friday
08:30 AM TO 06:30 PM
Saturday
09:00 AM TO 04:00 PM
Additional
Locations
For All Vern Fonk
Locations in WA & OR
Our Mount Vernon WA location proudly serves the Greater Burlington / Mount Vernon WA area including: Mount Vernon Burlington, Sedro-Woolley, Arlington, and Anacortes Washington