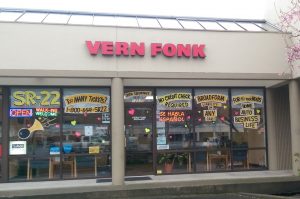 Is the idea of paying too much for auto insurance keeping you up at night? Get some rest by receiving the most affordable auto insurance quotes in Kirkland, Washington from Vern Fonk Insurance. Compare your car insurance, RV insurance, homeowners insurance or other insurance needs, such as SR-22 insurance, and you'll be on your way to a good night's sleep. Let the knowledgeable, licensed staff of agents at Vern Fonk Insurance provide the type of insurance you want at the best possible price.
Vern Fonk Insurance believes in building long-term relationships with their clients by offering them loyal, quality service and savings – at a reasonable price. Don't lose another night's sleep. Join the thousands of wise policyholders who have switched to Vern Fonk Insurance. We're conveniently located not far from Totem Lake and across the Totem Lake Mall in Kirkland. Visit our office at 12535 Totem Lake Blvd NE Kirkland, Washington 98034 or call us and start saving on your insurance today!
Vern Fonk Insurance
Kirkland
Address: 12535 Totem Lake Blvd NE
Kirkland, WA 98034
Phone: (425) 434-4028
Fax: (425) 821-6043
Email: chris@vernfonk.com
Motorcycle Insurance
Broad Form Insurance
Commercial Insurance
Monday
08:30 AM TO 06:30 PM
Tuesday
08:30 AM TO 06:30 PM
Wednesday
08:30 AM TO 06:30 PM
Thursday
08:30 AM TO 06:30 PM
Friday
08:30 AM TO 06:30 PM
Saturday
09:00 AM TO 04:00 PM
Additional
Locations
For All Vern Fonk
Locations in WA & OR
Our Kirkland WA location proudly serves the Greater Kirkland / Kirkland WA area including: Kirkland, Bellevue, Redmond, Bothell, Woodinville, and Issaquah Washington.