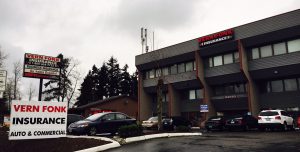 Is paying too much for car insurance taking the fun out of driving? Put the fun back in – simply by turning to the most affordable auto insurance quotes in Kent, Washington from Vern Fonk Insurance. Shopping for auto insurance, high risk SR-22 insurance, as well as homeowners insurance, renters insurance and, even RV and boat insurance is quick and easy. With the help of their friendly staff of licensed professionals, Vern Fonk Insurance can ensure you're getting the type of coverage you want at the best possible price.
When you've been in business for over 50 years as Vern Fonk Insurance has, you know that long-term relationships with your valued customers has a lot to do with building a strong reputation. See for yourself why so many people have switched to Vern Fonk Insurance. We're located near the Midway Towne Center and Lowes Home Improvement in Kent. Call or visit us at 23830 Pacific Hwy S. Ste 101 Kent, Washington 98032 and start saving on your insurance today!
Vern Fonk Insurance
Kent
Address: 23830 Pacific Hwy S #101
Kent, WA 98032
P: (253) 943-2212
F: (206) 824-4836
E: nicoleking@vernfonk.com
Motorcycle Insurance
Broad Form Insurance
Commercial Insurance
Monday
08:30 AM TO 06:30 PM
Tuesday
08:30 AM TO 06:30 PM
Wednesday
08:30 AM TO 06:30 PM
Thursday
08:30 AM TO 06:30 PM
Friday
08:30 AM TO 06:30 PM
Saturday
09:00 AM TO 04:00 PM
Additional
Locations
For All Vern Fonk
Locations in WA & OR
Our Kent WA location proudly serves the Greater Kent / Kent WA area including: Kent, Covington, Federal Way, Auburn, Maple Valley, and Des Moines Washington.
This branch offers auto insurance, sr22 insurance, home, business and more to our customers in the greater Kent area.