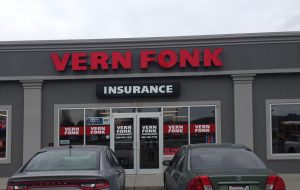 Are you wishing you didn't have to pay so much for car insurance? Start by checking out the most affordable auto insurance quotes in Kennewick, Washington from Vern Fonk Insurance and your wish could come true. Comparing rates for your auto insurance, RV insurance, homeowners insurance or SR-22 insurance is easy with the dedicated, licensed professionals at Vern Fonk Insurance. Let their friendly staff provide the type of coverage you need at the best possible price.
While other insurance companies treat you like a stranger, Vern Fonk Insurance believes in long-term relationships by giving Washingtonians what they want – quality service, loyalty, and most of all – savings. Find out for yourself why so many people have already changed to Vern Fonk Insurance. We're located between Jimmie Johns and Subway across from Hapo Community Credit Union in Kennewick. Call or visit our office at 7520 W Clearwater Ave Ste C Kennewick, Washington 93364 and start saving on your insurance today!
Vern Fonk Insurance
Kennewick
Address: 7520 West Clearwater AVE Ste C
Kennewick, WA 99336
Phone: (509) 281-7001
Fax: (509) 783-7725
Email: walter@vernfonk.com
Motorcycle Insurance
Broad Form Insurance
Commercial Insurance
Monday
08:30 AM TO 06:30 PM
Tuesday
08:30 AM TO 06:30 PM
Wednesday
08:30 AM TO 06:30 PM
Thursday
08:30 AM TO 06:30 PM
Friday
08:30 AM TO 06:30 PM
Saturday
09:00 AM TO 04:00 PM
Additional
Locations
For All Vern Fonk
Locations in WA & OR
Our Kennewick WA location proudly serves the Greater Kennewick WA area including: Kennewick, Pasco, Richland, Walla Walla, and Tri-Cities Washington.