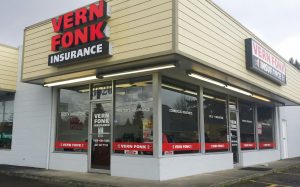 Today is the day you stop paying too much for auto insurance. Take the first step to savings with the most affordable auto insurance in Bremerton, Washington from Vern Fonk Insurance. They offer auto insurance, motorcycle insurance, and homeowners insurance as well as other coverages, including SR-22 insurance and commercial insurance. Let the friendly insurance professionals at Vern Fonk Insurance get you the coverage you're looking for at the best possible price.
Since 1952, Vern Fonk Insurance has been providing its loyal clients with what they want most from an insurance company – savings, quality service and the insurance coverage that meets their needs at a reasonable price. Come and join the growing crowd of satisfied customers who have switched to Vern Fonk Insurance. We're conveniently located next to Aladdin Motors and Sittin' Sidewayz in Bremerton. Stop by our office at 3620 Wheaton Way Ste A, Bremerton, Washington 98310 or call and start saving on your insurance today!
Vern Fonk Insurance
Bremerton
Address: 3620 Wheaton Way
Bremerton, WA 98310
Phone: (360) 686-6069
Fax: (360) 307-9886
Email: KashiaT@vernfonk.com
Motorcycle Insurance
Broad Form Insurance
Commercial Insurance
Monday
08:30 AM TO 06:30 PM
Tuesday
08:30 AM TO 06:30 PM
Wednesday
08:30 AM TO 06:30 PM
Thursday
08:30 AM TO 06:30 PM
Friday
08:30 AM TO 06:30 PM
Saturday
09:00 AM TO 04:00 PM
Additional
Locations
For All Vern Fonk
Locations in WA & OR
Our Bremerton WA location proudly serves the Greater Bremerton WA area including: Port Orchard, Bethel, Bainbridge Island, Chico, Belfair, Silverdale, Poulsbo, Belfair, Bangor, and Kingston Washington.