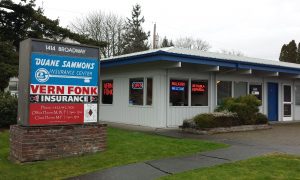 Never take paying too much for auto insurance for granted. It's just a matter of doing something about it with the most affordable auto insurance in Bellingham, Washington from Vern Fonk Insurance to change your thinking. Let their friendly staff of licensed agents show you how easy it is to save on your auto, SR-22 insurance, homeowners insurance, renters insurance – or even RV insurance – with a quote that's sure to fit your situation and budget. Vern Fonk Insurance can provide the coverage you need at the best possible price.
Vern Fonk Insurance knows that, after 50 years of serving their many loyal customers, offering them savings and the right protection at a reasonable cost is what it's all about. Discover the difference for yourself – make the switch to Vern Fonk Insurance. We're located near Elizabeth Park across from the Slavic Baptist Church in Bellington. Call us or visit our office at 1414 Broadway Bellingham, Washington 98225 and start saving on your insurance today!
Vern Fonk Insurance
Bellingham
Address: 1414 Broadway St.
Ste A
Bellingham, WA 98225
Phone: (360) 686-6071
Fax: (360) 715-0390
Email: markf@vernfonk.com
Motorcycle Insurance
Broad Form Insurance
Commercial Insurance
Monday
08:30 AM TO 06:30 PM
Tuesday
08:30 AM TO 06:30 PM
Wednesday
08:30 AM TO 06:30 PM
Thursday
08:30 AM TO 06:30 PM
Friday
08:30 AM TO 06:30 PM
Saturday
09:00 AM TO 04:00 PM
Additional
Locations
For All Vern Fonk
Locations in WA & OR
Our Bellingham WA location proudly serves the Greater Bellingham WA area including: Ferndale, Marrietta-Alderwood, Lummi Island, Sudden Valley, and Whatcom County Washington.