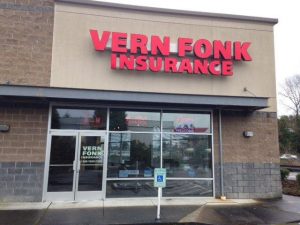 Never pay too much for car insurance again! The quickest way to savings is by getting the most affordable auto insurance rates in Bellevue, Washington from Vern Fonk Insurance. Whether you need auto insurance, high-risk SR-22, insurance, RV insurance or homeowners insurance, the dedicated, friendly staff of experts at Vern Fonk Insurance consistently provides their clients with the type of insurance coverage they want at the best possible price.
Vern Fonk Insurance has been serving the state of Washington with the same customer loyalty and quality service since 1952. And, they've also done it by offering coverage at a reasonable price. That's why thousands of Washingtonians have switched to Vern Fonk Insurance. Why not get a quote and see how much you can save? We're located off Interstate 90 – across from the Eastgate Plaza and O'Reilly Auto Parts in Bellevue. Call us or visit our office at 15350 SE 37th St Ste A Bellevue, Washington 98006 and start saving on your insurance today!
Vern Fonk Insurance
Bellevue
Address: 15350 SE 37th St Suite A
Bellevue, WA 98006
Phone: (425) 434-4025
Fax: (425) 245-9296
Email: kevinc@vernfonk.com
Motorcycle Insurance
Broad Form Insurance
Commercial Insurance
Monday
08:30 AM TO 06:30 PM
Tuesday
08:30 AM TO 06:30 PM
Wednesday
08:30 AM TO 06:30 PM
Thursday
08:30 AM TO 06:30 PM
Friday
08:30 AM TO 06:30 PM
Saturday
09:00 AM TO 04:00 PM
Additional
Locations
For All Vern Fonk
Locations in WA & OR
Our Bellevue WA location proudly serves the Greater Bellevue / Eastside WA area including: Bellevue, Kirkland, Clyde Hill, Medina, Newcastle, Crossroads, Lake Hills and Redmond Washington.